How To Choose The Best Window Treatment for Sliding Doors in Boston
When homeowners look for the best window treatments for Boston homes, sliding doors can sometimes get left out. That's unfortunate, since finding the perfect window treatment for your sliding door could be more important than anywhere else, given how heavily they tend to be utilized and the potential visual boost they can offer your space.
Sunburst Shutters Boston is set to help you find the best window treatment for the sliding door in your home. Let's first look at the chief considerations to look for in sliding door products, and then dive into specific options that can work in your home.
Sliding Door Window Treatment Priorities
Keep the following aspects in mind when looking for your perfect sliding door window treatment:
Resilience: Doors tend to be busier than windows, so go with a treatment that can handle the wear.

Orientation: Sliding doors operate horizontally, whereas most windows move vertically. Make sure your window treatment doesn't obstruct the usage of your door, bearing in mind the amount of space is available around the door.

Light & Privacy: Sliding glass doors are very large compared to most windows, so a window treatment that gives you great control over light and privacy is important.
Our Top Treatments for Sliding Doors
Polywood Plantation Shutters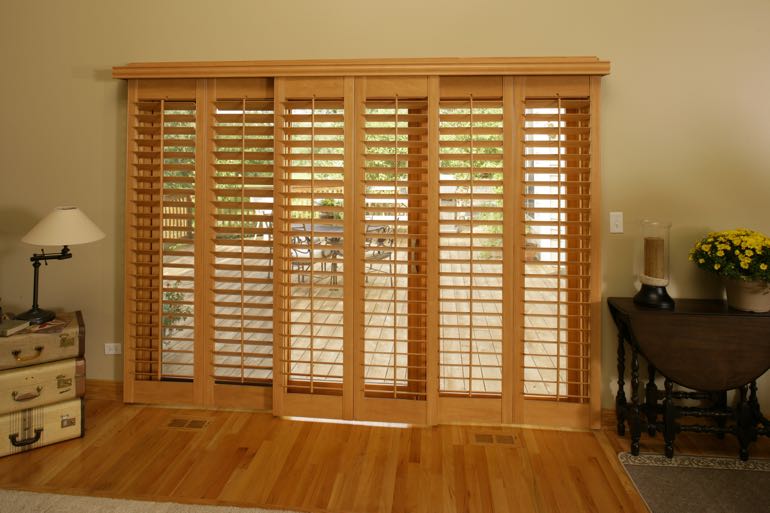 The first window treatment we'll discuss is also the one we recommend above all others. Plantation shutters satisfy each of the requirements for a great sliding door treatment. In particular, Sunburst Polywood® plantation shutters are a terrific choice. Polywood never fades or discolors, so your home keeps that classic, sophisticated feel. Plantation shutters are also incredibly energy-efficient, giving you the greatest control of light and heat that comes into your home.
Possibly the most notable benefit of shutters when it comes to sliding doors is their resilience. Sliding doors will usually be opened and closed more often than windows, so being able to stand up to frequent usage is important. Polywood shutters are resistant to breaking, warping, or cracking, so you can rest assured no matter how frequently your sliding door is used, your shutters will make your space beautiful for years.
Vertical Blinds for Sliding Doors
Another common option for sliding glass doors in Boston is vertical blinds. As you can guess, these blinds hang vertically, suspended from a track above your sliding door. If you have a certain color scheme you want to follow, vertical blinds would be a good option for you, since they're available in an array of different shades, materials and patterns. You can further personalize with a corded, cordless or automated mechanism to make drawing the blinds simple.
Don't forget though that there may be a few drawbacks with vertical blinds. They won't block nearly the amount of light as shutters will, even when the blinds are completely closed. Blinds also tend to sway, which results in less privacy when shut. They are also infamous for breaking due to the constant use.
Sliding Door Panel Tracks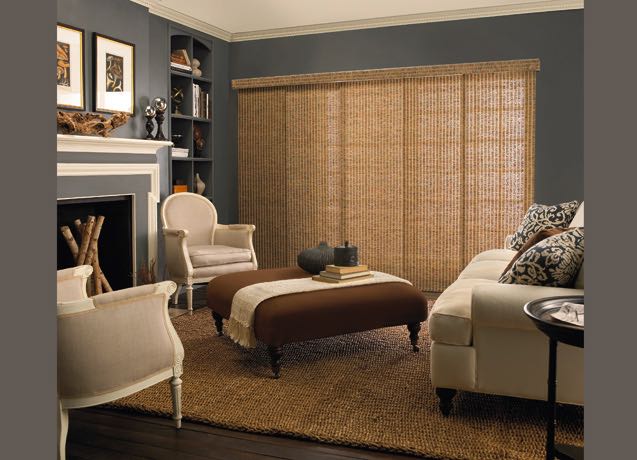 Sliding panel tracks are most often chosen for larger windows, which makes your sliding door the perfect spot for a beautiful panel track installation. With their capacity to control light and privacy and simple operation, panel tracks are ideal for sliding doors in areas in which you'll often have guests.
Basically, sliding panel tracks are individual wide panels of material that adjust on a track—like very large vertical blinds, but they only open and close, instead of tilting. They're available in a number of materials, from wood to natural fibers to fabrics and beyond - so you can find an option that complements your Boston home's style.
Depending on the height and width and layout of your sliding door, you're able to pick from a few different arrangements for a sliding panel track so it can open from one end or in the center, allowing you to coordinate function with your fashion.
We're Ready To Find Your Perfect Fit
Your sliding door may be the most noticeable window in your Boston house, so we want you to be confident that the window treatment you select is the right one for you. Check out the
Sunburst Idea Gallery
for some design inspiration, then call Sunburst Shutters Boston today at
781-352-2205
to schedule your no-obligation in-home consultation and take the guesswork out of your home design.