The Best Nursery Window Treatment Ideas In Boston
As an expecting parent in Boston, you want to have every aspect of your bundle of joy's nursery perfect -- and that includes the window treatments. But before you pick out any window treatment, don't forget that functionality and safety are essential. Infants are able to pull down curtains or get entangled in blind cords. These coverings won't stop sunlight and drafting for optimal sleeping conditions either. As an alternative, install child-friendly, efficient louvered shutters or cellular shades as window treatments for your nursery in Boston.
Plantation Shutters Will Keep Your Nursery Safe, Cozy, And Stylish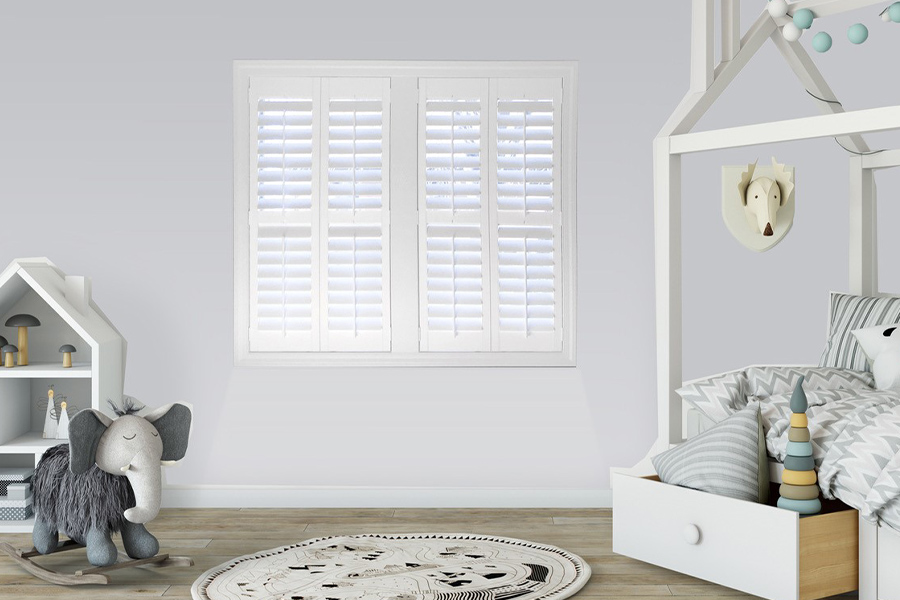 Interior shutters maybe aren't at the top of your list of nursery window treatment ideas in Boston, but they ought to be! These time-tested window treatments look amazing in any area. Their solid panels create an appealing contrast to the fluffier furnishings usually associated with a baby nursery. You might use
white faux wood Polywood® shutters
in rooms with vivid or pastel color choices. Wood-stained shutters may be more suitable when your nursery features more natural components or you wish to coordinate with the present wood finishings. And when you change the decor as your baby gets older, your shutters will still coordinate with the space's altered feel.
Louvered shutters have a particular composition that makes them perfect for little ones' bedrooms. As an alternative to installing drapes or corded options for a loved one to grasp on or get tangled in, plantation shutters have solid panels with adjustable louvers incorporated into a frame that encompasses the window. They even wipe off effortlessly whenever they inevitably get smudges from tiny fingers.
Shutter panels and slats give you a few different options for managing natural light and privacy in your child's space as well. Pull back the panels for a sun-splashed playroom or fasten them and turn the louvers up to welcome a bit of outside light and redirect it off the floor where your child plays. Then secure everything to block nearly all outside light for naps and bedtime.
Closed interior shutters block cool breezes as well. Air isn't able to go through solid wood and faux wood as it will through other window treatments. And exceptional Ovation® and Polywood shutters use first-rate manufacturing techniques to greatly reduce openings where air could slide through. Polywood shutters also feature the best in weather protection that makes them the most energy-smart nursery window treatments in Boston and makes certain your space remains cozy for a peaceful slumber.
Cellular Shades Bring Energy Efficiency and Versatility To Nursery Windows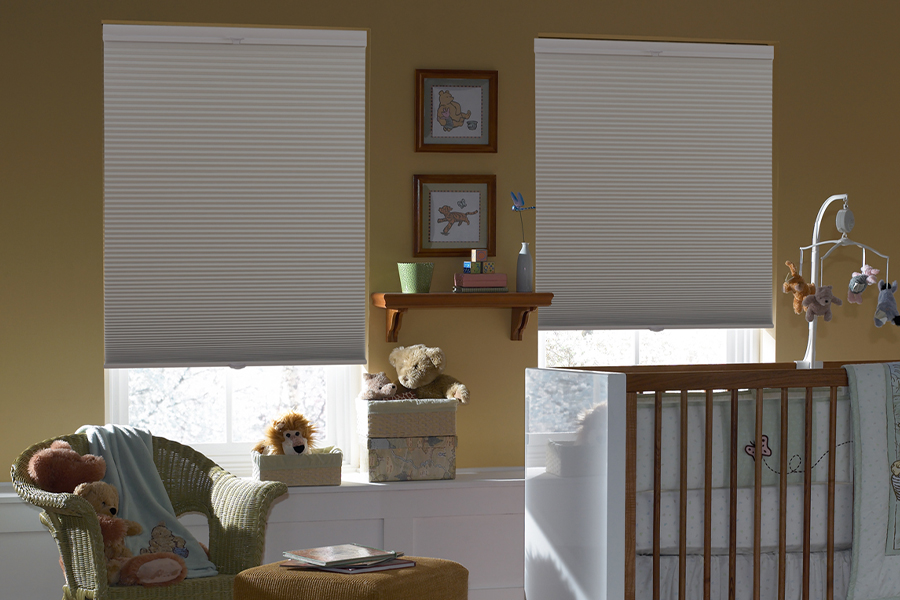 In the event you would rather a softer texture for your nursery window treatments,
choose cellular window shades.
These window coverings come in different materials, colors, and patterns for you to choose from. You'll also come across different types such as top-down/bottom-up shades that provide additional flexibility with outside light and privacy or non-corded shades that your little one isn't able to become caught up in.
The leading advantage of cellular shades is their superior efficiency. Their unique design creates little pockets that trap air entering through your windows before it infiltrates the nursery. They help keep the room at a comfortable temperature and utility bills down.
Looking For Additional Nursery Window Treatment Ideas In Boston? Speak With Sunburst
Whether you want nursery window treatment ideas in Boston or window treatments for another room of the house, Sunburst Shutters Boston has the answer. We carry a variety of window fashions that make your home more beautiful and comfortable. Call us at 781-352-2205 or submit the following form to schedule a complimentary on-site appointment and discover outstanding window treatments in Boston.