The Most Popular Basement Window Treatments In Boston
It's common for homeowners to put off or even forget to cover their basement windows. It's hard to find a window treatment in Boston that brings in the natural light this part of your house needs, while providing you privacy. And when you have small windows, finding a window treatment that will match your décor becomes even more challenging. Also, basements are more humid that other parts of your home. That greatly affects what type of window treatment you purchase.
The easiest way to decide on which window treatment works best for your basement in Boston is to start with the kind of basement you have.
Window Treatments For Walk-Out Basements In Boston, MA
If you have a walk-out basement in Boston, you don't have to be concerned as much about mold and dampness when choosing window treatments. Instead, you need a window treatment for your large windows that helps you control light and provides privacy, especially if your big screen TV is in your basement.
Draperies provide privacy. If you choose sturdier material and add blackout layers, they can even block out almost all of the light. But draperies cover the unique architecture of your basement windows behind their folds. Also, they can get dirty easily and stay dirty until their annual cleaning. You have less control over light with draperies as you can only move the panels to one side or the other. You can still see light coming in through the sides of the draperies.
Remain in control of your basement windows with plantation shutters. The shutter panels are encased in a frame that prevents light from coming through the sides. So now you have complete privacy. Nobody is able to see in when the shutters are closed.
You can tilt the shutter louvers to let in more natural light. You can even add a divider rail and control the top of the basement window shutters independently from the bottom. And premium plantation shutters have weatherstripping that offers the temperature control that is needed with larger windows.
Plantation shutters are custom-built to cover the the window's shape. In that way, shutters bring out the unique curves and angles of your arched and circular windows.
Another great choice for walk-out basements is sliding barn doors. You can take advantage of the view outside by pushing the panels all the way to the sides of the window. Your barn doors transform into a work of art when you shut them, adding to the room's furnishings.
There might be a small gap on the sides where light can come in. That's due to how the barn door is installed.
For the walk-out basement door, look for a durable window treatment that can endure the door's frequent opening and closing. Shades and blinds bang when they hit the glass. And if they're tied to the frame, they look unfinished. Plantation shutters are permanently installed to the door. They won't budge when you swing the door open. You can tilt the louvers for more or less light.
Shutters are also a strong choice for walk-up basement doors in Boston.
Window Treatments For Look-Out Basements In Boston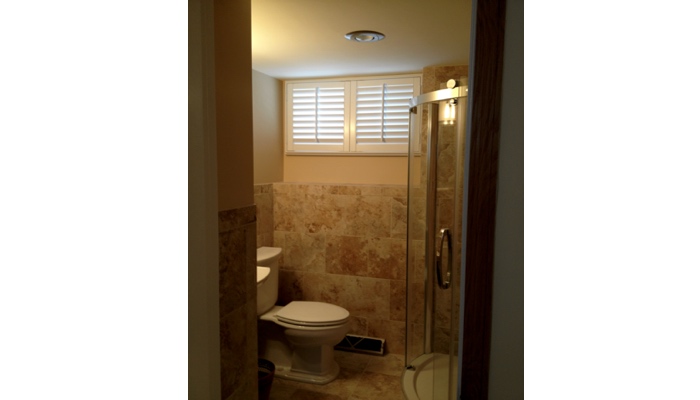 For look-out basements in Boston, dampness and mold growth is a concern when selecting a window treatment. So you'll want a window treatment that can handle humidity and goes with your space.
Synthetic wood and premium wood shutters can be moisture resistant. Certain plantation shutters have been shown to never warp. That's what makes them a great choice for your look-out basement.
Plantation shutters bring the warmth of wood to your, often cold, basement. These energy efficient plantation shutters decrease your energy bill the whole year and make entertaining in this space an enjoyable experience.
Take your energy savings to the next level by combining plantation shutters with window film. This also allows you to swing open the shutter panels in the daytime while maintaining your room's temperature with window film.
You may want to close the shutters at night. Otherwise, neighbors and passersby can look into your basement.
If your basement windows are small, you can create the illusion of a larger window by installing shutters that are higher than the window. And you won't lose all the benefits of privacy and light control.
What's The Easiest Way To Purchase Window Treatments For My Basement In Boston?
First, call us at

781-352-2205

.
We'll walk you through the process of purchasing basement window treatments
as well as any other window treatments you want to look at for other rooms in your house. This includes scheduling you for a free in-home consultation to look at product samples and get an estimate. After you've chosen the window treatment that you want, we order and install it. Finding the right window treatment doesn't get easier than this...unless you want to fill out the form below instead of dialing

781-352-2205

.