Top Window Treatments For A Home Library In Boston
The window treatments in a home library in Boston might be deemed an afterthought, but they can do a great deal to help you fashion the ideal area for relaxing with a good book. The smartest options give you the ability to control light levels, privacy, and even the temperature in the room! If your home library window treatments fall short of those standards, we suggest switching to louvered plantation-style shutters. Here are some good reasons to make the change.
Choose From An Open And Bright Or A Dimmer And More Private Home Library With Polywood Shutters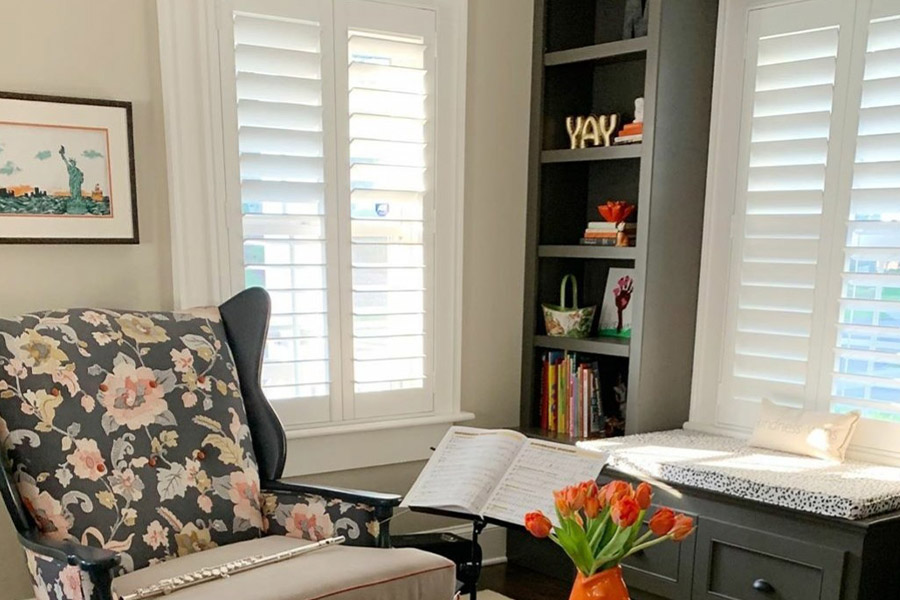 Each home library should have ample sunlight for enjoying a book or magazine. But sometimes an overflow of light causes eye strain. And how about when you are looking for a more brooding atmosphere for settling in to a a tense thriller? The best window treatments for home libraries in Boston give you the opportunity to easily adjust from bright natural light and a darkened room.
Interior shutters are a cinch to open and close. You just swing open the panels for full sunlight when your lamps aren't adequate or if you would like to reduce your electric bill. On occasions when the sunlight is overwhelming, close the panels but tilt open the slats for the amount of light you want. You can also move the louvers to divert excessive sun rays from your paper or reading device and achieve the ideal level of brightness to eliminate straining your eyes. And when you desire a darker, cozier home library, the solid shutter elements close closely for near-total darkness.
Block Outdoor Disruptions When You Read With Louvered Shutters
When the time comes to unwind with that new mystery you've been itching to read, the last thing you want is a racket from outside. Faux-wood shutters can limit these interruptions when you are looking for peace and solitude. All you have to do is close the panels and louvers if you would rather not see people or Boston rush hour in your field of vision as you read. Your secured shutters will prevent strangers from seeing you in your library too. And unlike an abundance of window treatments, you are able to shift your louvers to let in some light so you can read while preventing sightlines from outside your home.
Expertly crafted faux-wood shutters also do a stellar job of muffling outdoor commotions in comparison to lighter weight options like blinds. Did someone start a lawnmower right when you had reached the big reveal in your novel? Seal your shutters for a little extra solitude as you read.
Halt Unwanted Drafts With Polywood's Superior Insulation Properties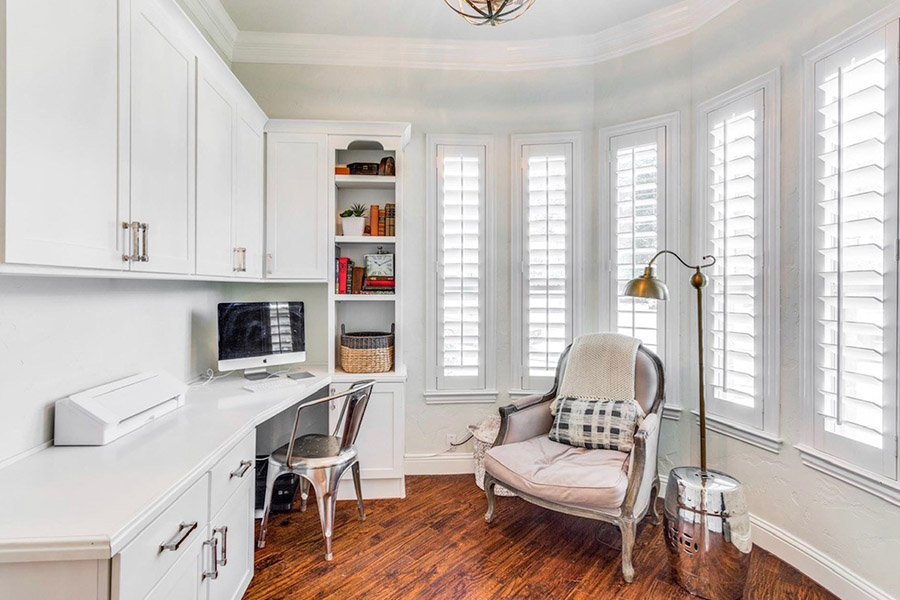 Along with providing solutions for light and noise, your Polywood shutters prevent drafts that can make you uncomfortable while sitting in your preferred reading chair.
Polywood shutters provide better energy efficiency
than every other window treatment. Both cold air and hot UV rays aren't able to get through their manufactured wood. And their precision fabrication prevents exterior air from slipping past borders. Interior shutters will stop close to 30 degrees of temperature conveyance from your room's windows to safeguard your prized reading materials from sunlight and drafts while keeping you comfortable.
Let Sunburst Shutters Boston Show You The Best Window Treatments For Your Home Library In Boston
Design the best reading environment with Polywood shutters from Sunburst. We bring sample options to your location to demonstrate how they will enhance your interior. We'll then craft your shutters to the specific dimensions of your windows. Start today by contacting us at 781-352-2205 or fill out the form below to schedule your free in-home consultation.