What To Look For In Great Room Window Treatments In Boston
Your great room is a sizable open living space that serves many functions. When you're looking for great room window treatments in Boston, what you choose should be suitable for how the area is used and the levels of light it gets. You should find treatments that are simple to adjust for darkness and light, help keep your room comfortable, are kid- and pet-friendly, and look terrific with your decor. You'll discover many great room window treatments for sale, from versatile Polywood® plantation shutters to an abundance of trendy window shades.
Use Window Treatments That Let You Control Light Levels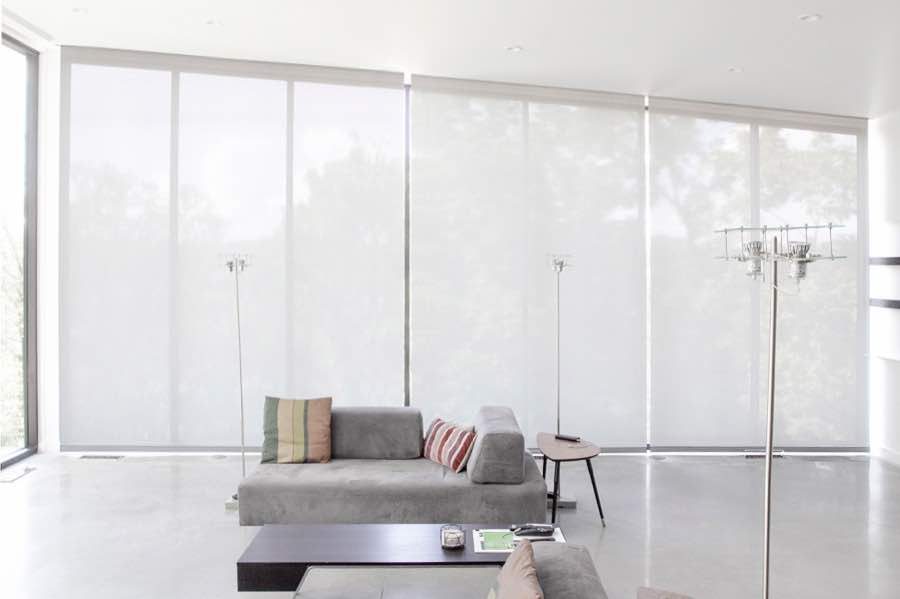 Plenty of things happen in your great room. In a 24-hour period, you may read a magazine, take a siesta on the sofa, help your kids do homework, enjoy your favorite show, and more. Everything needs a different degree of sunlight, so you'll want window treatments that are a breeze to manipulate.
Sought-after Polywood interior shutters are simple to adjust and provide the most options for sunlight levels. Swing the panels open for total daylight when you're reading. Glare in your eyes? Shut the panels, but adjust the louvers and move them to a point that sends light away from your face. For darkness and privacy during a movie marathon, close up the panels and louvers to obstruct street lights. Even during the day, Polywood shutters block all but the faintest glimmer of light thanks to their impervious material and top-notch construction.
Motorized window shades make controlling light a breeze. By pressing a button, you can adjust motorized shades to block glare on your TV without moving off the sofa. Or, program your automated motorized shades to open and let in sunshine and then automatically close for privacy after dark.
Maintain A Constant Temperature With Insulating Window Treatments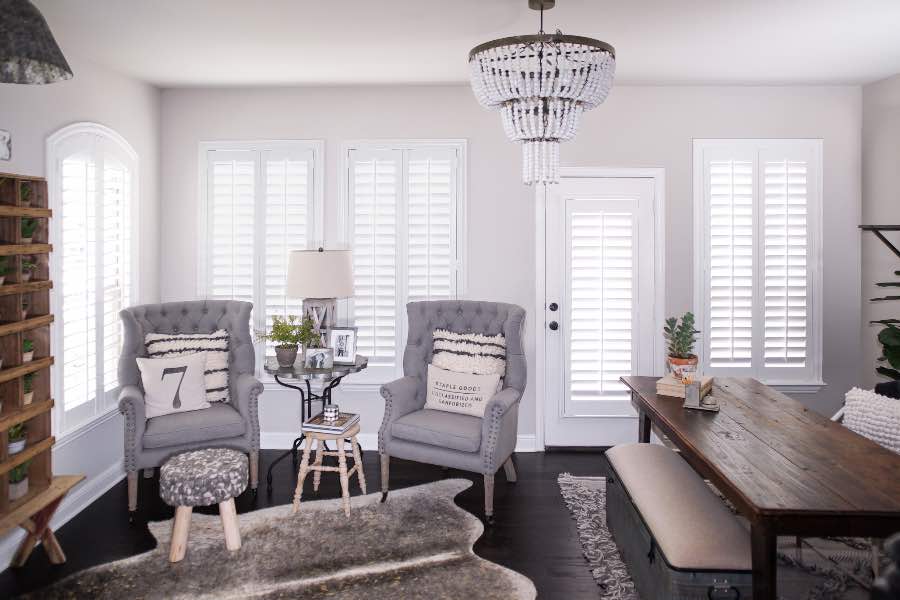 A great room is a big open living space that can take a lot of energy to cool in summer and heat in winter. Offer your heating and cooling system a bit of relief with by installing insulating window treatments. They will impede hot UV rays and chilly drafts. You can go with energy-saving cellular shades to hinder most temperature transfer. Even so, Polywood shutters are the most energy-smart great room window treatments in Boston. The shutter's frame blocks sunlight and air from getting in via the border of your windows, and the louvers close securely to minimize temperature transfer on the steamiest days and most frigid nights.
Enjoy Your Great Room Window Treatments For Years On End With Enduring Polywood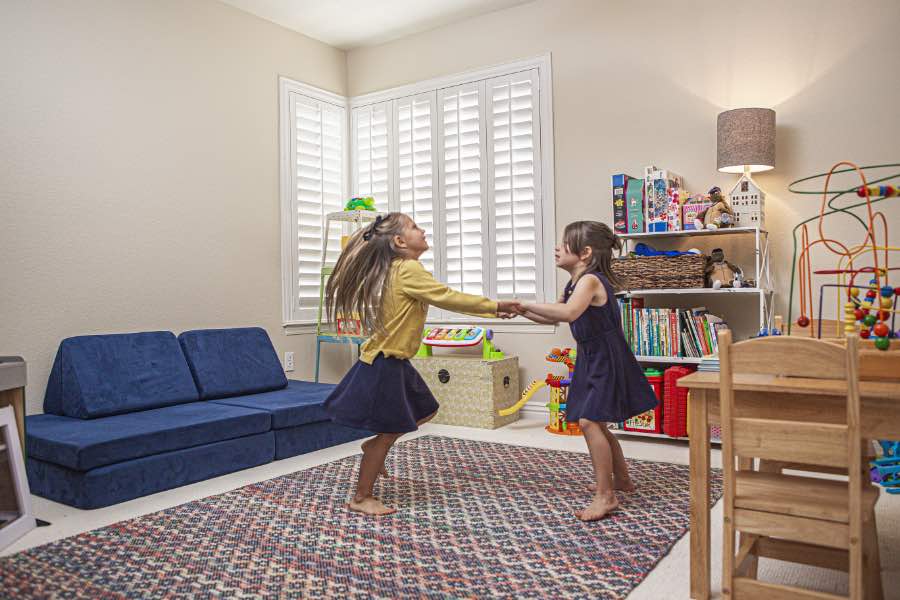 With so much taking place in your great room, you require window treatments that can endure just about anything. Durable Polywood shutters resist damage from moisture, temperature extremes, pests, and outside light. They won't bend or break when smacked by active kids. Pets can't tug them off the window. And even if your dog nibbles on a louver, it's simple to order a replacement piece. Drapery and window shades just can't compete with regard to resilience and longevity!
Match Your Great Room Window Treatments To Your Interior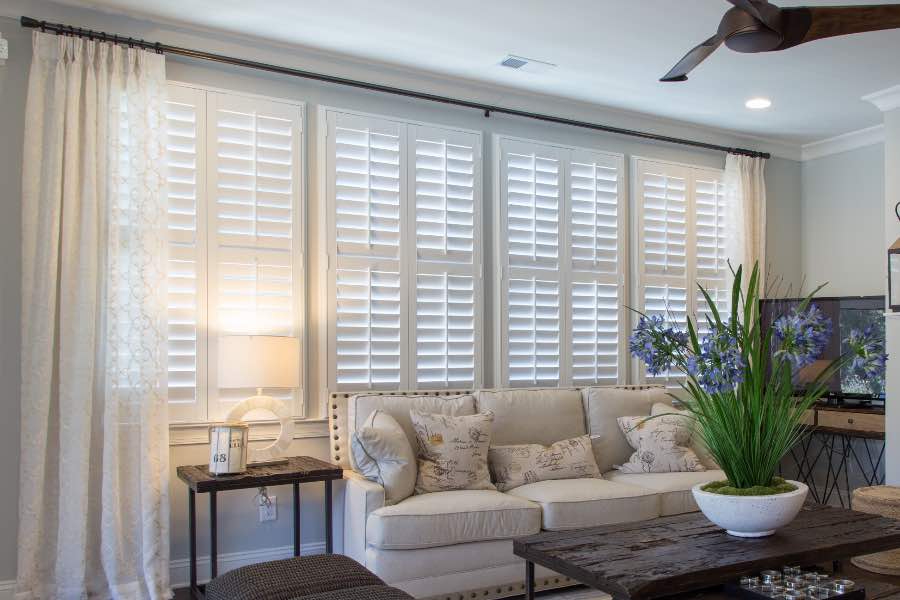 Any element you introduce to your home should go with your existing decor. This includes your great room window treatments. You can find roller shades in a plethora of patterns and colors. Or, coordinate wood interior shutters to wood accents in your great room. You can also use adaptable white Polywood shutters that easily complement all kinds of styles.
Call Sunburst For Great Room Window Treatments In Boston
Let the window treatment specialists at Sunburst Shutters Boston help you find the perfect great room window treatments for your Boston home. Call us at 781-352-2205 or fill out the form below to schedule a free in-home consultation. We'll come with samples and demonstrate your favored options on your windows.